Newsletters are undoubtedly the most widely used form of School-Home Communication! Parents are kept well informed about their child's learning moments, upcoming events and monthly highlights etc. However, creating Parent Updates means having to spend countless after-work hours summarizing and manually formatting content. Here are 5 tips that can help you create effective Newsletters with much less effort and time!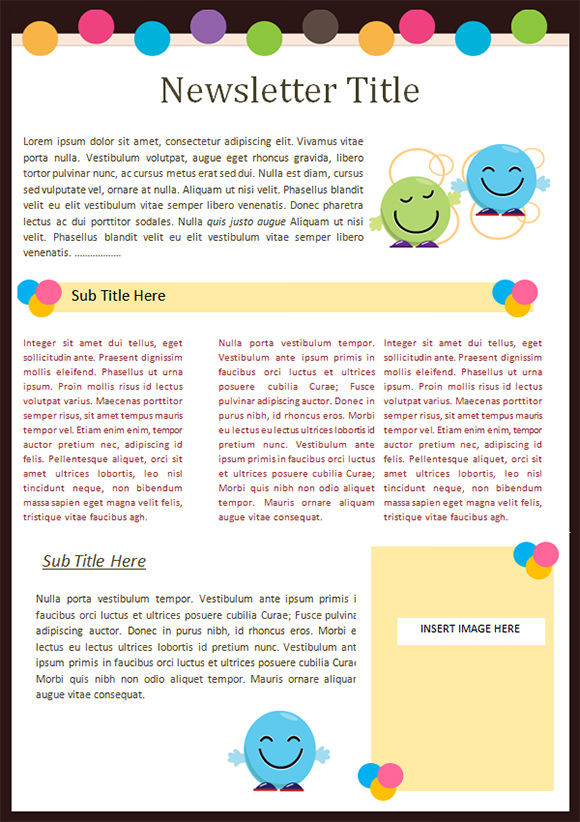 1) Newsletter Templates

Eliminate time wasted on petty formatting issues and focus your efforts on adding rich content instead! It is easy to get caught up in sorting out columns, spaces between paragraphs and other aggravating issues to do with manual layouts. Newsletter templates give you designated spaces to arrange your information so you can stop worrying about messy layouts!

Pro tip: There are numerous newsletter printables and digital templates at your disposal-– pick and choose the ones that work best for your weekly/monthly updates!
2) Photo Archive
A picture is worth a thousand words. Visual updates are more well received by Parents who are looking for quick affirmation about their child's positive schooling experience! Instead of huge chunks of text, utilize your classroom documentation and insert images with brief and concise captions. Parents are more inclined to engage with visually rich newsletters and your effort put into creating regular updates are not wasted!
Pro tip: Having an organized Classroom Documentation archive is useful for quickly pulling relevant images and using them for newsletters.
3) What are Parents expecting?
The length of a newsletter does not reflect its effectiveness; the value of the updates included does. Spend more time elaborating on topics that parents are more concerned about and summarize the rest of your updates in bullet points! Additionally, keep track of the information you have already sent out to parents in your daily updates to reduce time spent on repeating them in your Newsletters!
Pro tip: Organize your newsletter by creating sections devoted to a couple of in-depth major updates and a final section named "Additional Updates" to summarize extra information.
4) Consistency is Key
Newsletters are meant to update not overwhelm! Parents have busy schedules and they only have a couple of minutes to read through Newsletters. Keep your layouts clean, your color scheme consistent and your content relevant. If you have been including certain types in your Newsletters, make sure to continue doing so as Parents will grow use to expecting them!
Pro tip: Constantly take note of the tidbits of information you want to include so that when the time comes for creating the newsletter, you know exactly what goes where!
5) Go Digital!
Your families are becoming increasingly tech-savvy so why not cater to their digital preferences? It saves you paper and time spent on printing and handing out Newsletters. What's more, digital updates in email inboxes are more accessible and enables Parents to read them the on-the-go. If parents increasingly engage with and understand your digital content, it saves you the effort of responding to an overwhelming number of questions!
Pro tip: Check out and try School-Home Communication software like Kaymbu that help you create customized Newsletters and easily message families in minutes! Keeping track of email open rates is extremely helpful for gauging how well your updates are being received.
There you have it-– 5 best practices that can help you create School Newsletters that save you time while effectively informing parents. Try implementing these suggestions into your School Communication initiatives to see results. Try the Kaymbu app to easily document classroom moments and create beautiful newsletters!